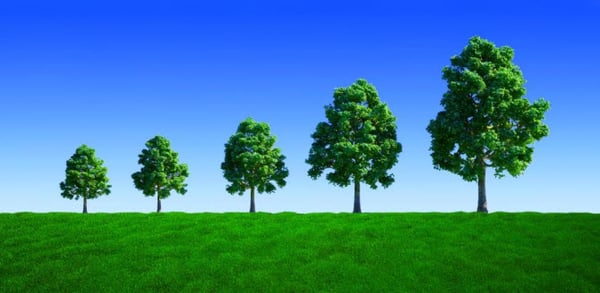 Tracking year-over-year performance is essential to the success of any business. So after the New Year we run the numbers to see how our clients are performing. This annual analysis validates that we are not only targeting the right audience, but also solving the right problems.
Our core philosophy of driving operational efficiency and profitability through end-to-end integration and data integrity – along with the software and services we provide – allow multi-channel merchants to build a foundation from which they can scale. And each year the results confirm we are on the right track.
With even more historical data taken into account, we're excited to report that while established brands and big-box retailers struggled with declining sales and profits, our merchants enjoyed another upbeat year.
For this analysis, merchants were divided into cohorts based on the year they went live on the Etail Vantage Platform. Then, the first month of revenue processed through the platform was recorded, and compared with that same month one, two, three, and four years later. This analysis excludes merchants who went live in 2015 because a full year of data wasn't available. Here are the findings:
$271k/mo.
Average 'starting size' of merchants who went live on our platform in 2015
130%
Average growth rate of merchants in their first year on our platform (4-year average)


Lifetime Annual Growth Rate


| | |
| --- | --- |
| Years on Platform | Growth in Annual Revenue |
| 1 Year | 130% |
| 2 Years | 267% |
| 3 Years | 730% |
| 4 Years | 1,077% |

How Did Our Clients Achieve These Results?
By taking a strategic approach to building their businesses based on our decades of combined experience working with leading internet retailers.
Our platform allows multi-channel merchants to turn operations into a competitive advantage by replacing disconnected systems with one fully integrated end-to-end solution.
And once daily operations like inventory management, repricing, and fulfillment are automated, merchants can focus on growth initiatives like adding listings, sales channels, suppliers.
What Our Clients Are Saying About Us
"I couldn't have done it without Etail. I don't see or touch 95% of my orders. That's why I can do 500-600 orders per day. I've looked into other businesses like mine that are about the same size. Some of them have 15 employees. Our gross margin is going to be about the same but I'm going to have a much higher net margin because I'm doing with 2.5 people what they need 15 employees to do. My business grew 410% in the first 18 months on the Etail platform and I had my first $1M month in December 2016."
"Etail is not an investment, it is a return on investment. If you are dedicated to growing your business and want to find a partner who is invested in your growth and who will learn about your company, you won't find a better platform. If you really want to grow, there is no one else who can do it at this level. Financially this is very scalable. It may seem more costly in the beginning as you customize, but in the long run it's not."
"I was looking for something that would scale with us and would be the best all around solution, not a couple of solutions that I would have to piece together. I liked Etail's design philosophy of a solid core data set that drove data throughout the system. I was very concerned with data integrity. Other systems needed you to enter the same data in multiple places and that always leads to mistakes. It's allowed me to scale, pure and simple. More importantly, it's allowed me to scale efficiently and profitably. Efficiency equals profitability in this highly competitive, low margin business."