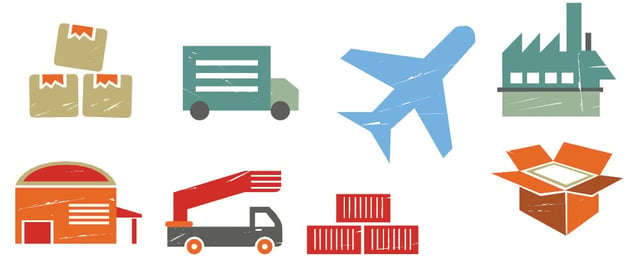 When choosing a Just-In-Time (JIT) supplier, it's not enough to judge them on price and reliability. If you've worked with a drop ship or cross-dock supplier you know there's a whole lot more involved than merely submitting purchase orders and paying invoices. Not all suppliers are created equal. So we're going to focus on some of the criteria you need to keep in mind when selecting your first or next one – to make sure you get the right one!
Exchanging Data
Drop shipping and cross-docking require seamless integration between suppliers and merchants. There are many questions you need answered here. First, find out their process for exchanging data. Is it a self-service portal where you manually upload spreadsheets or is the data sharing process automated? What information and file format are needed?
Product Catalog Data: What information does the supplier provide? There are several key factors you need to take into account to make an informed decision. Here is a list of some of them: SKU; SKU title; amount ready for shipping; SKU wholesale price; SKU category; SKU description; SKU manufacturer; width, length, height, weight of item; item features (size, color, etc.); item picture(s); cost of handling; UPC; manufacturer's part code; the minimum advertised price; manufacturer's suggested retail price.


Inventory Data: This is the key link between the product catalog and the order processes, so you need visibility when it comes to your supplier's inventory. To manage this effectively requires some type of software, since inventory can change by the hour. Real-time automation is best. The two essential pieces of information are SKU and quantity available to ensure connection to your product catalog and deliver inventory visibility. Look also for the following information from a supplier: SKU status (in stock, out of stock, back-ordered, discontinued); estimated date of availability; amount on order; the 3-letter ISO currency code.

You should also ask some key questions. Does your supplier create products on receipt of the orders How long a lead time do they need? How accurately does your supplier track inventory - how automated is it? Do they sell wholesale? To large retailers? How many retailers do they supply? The available inventory can drop to zero in 5 minutes if there are major retailers, or many retailers being serviced.


Order Data: Several pieces of information need to pass between you and your supplier for ordering to work well. There is critical information your supplier must receive: purchase order number; SKU line item; SKU title; amount of product; title, name, and address of customer to receive as shipment as well as phone number and email address; shipping method and preferred carrier. If you're going to effectively automate this process, there are other things to consider as well. Things like partial shipments, cancelled orders, and backordering. So you need a solution that takes these into account.
Paying and Reconciling Invoices
How do you supplier(s) handle invoicing? From what we've seen, some suppliers generate an invoice per purchase order, while others generate an invoice that summarizes all purchase orders from a given time period and provides a total payment due. Whatever the case, you need to find out what their policy is before you start sending business their way. In fact, you should ask for a sample invoice so you know what the cost breakdown looks like and if there are any other quirky details that may affect accounts payable.
You and your suppliers know how the ordering and invoicing process should work in an ideal world. You submit a purchase order, your supplier delivers the goods, you or the end customer receives the goods, and your supplier sends you an invoice. Everything matches and there isn't an accounts payable mess to clean up on the back end. Transactions are hands-off from an admin perspective and don't require as much effort to manage.
It sounds good in theory, right? Believe it or not, the best suppliers want it to work this way too and will collaborate with merchants to achieve this outcome. Look at the process from their perspective. They want accounts receivable to be easy. They want to be paid on time without hassles. The cost of doing business with suppliers who operate this way is lower because when they receive purchase orders and send invoices it doesn't require a lot of manual processing.
Ensuring Price Accuracy
What about your supplier's prices? How much do they fluctuate? Needless to say, you want to avoid placing orders with out-of-date pricing. Ideally, your supplier will honor the prices quoted on your purchase orders so you're not stuck having to manually reconcile what could be thousands of invoices. Figure out these things ahead of time or you could get trapped in a relationship where you owe money and have to put up with whatever convoluted process your supplier uses.
Negotiating Billing Terms
Your supplier's billing cycle is another important consideration. When are you required to make full payment? Within 30 days of the PO date or invoice date? Usually terms are negotiable and it could be the difference between you being 'cash strapped' or 'cash rich'. If you can get them to say 'yes', you could theoretically scale it with existing cash flow instead of taking on high interest debt or outside investment.
Searching By Geographic Location
When evaluating cross-dock suppliers, the first thing you need to consider is geographic proximity. You must be able to send your supplier a P.O. at the end of the day and have that inventory sitting on your loading dock by noon the next day. This is impossible to do with parcel freight so most cross-dockers hire a driver to pick up inventory from their suppliers every day. Or they might negotiate an agreement whereby if the order is over a certain amount, the supplier will deliver it for free.
Integrating Suppliers With Sales Channels
As a drop shipper or cross-docker, you often are not the only merchant selling a specific product from your supplier. As other merchants make sales, they may deplete your supplier's inventory - inventory you are depending on to fill your own orders. The result is out-of-stocks, upset customers and potential penalties from the marketplace. Advanced platforms automatically adjust your listings based on supplier inventory - delisting them when your supplier is out of stock and automatically relisting them when product is available. Supplier integration also allows for automatic purchase order generation and shipping confirmation.