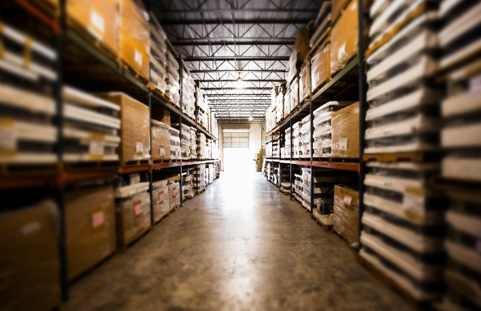 Multi-channel merchants already know the importance of maintaining accurate inventory levels at all times. And yet even the most attentive internet sellers often find it difficult to get this right. Some use online inventory management systems to try to keep up with their stock while others use Excel spreadsheets. Whatever your case may be, this post reveals our single most effective online inventory management technique so you'll hopefully never have to deal with surpluses or shortages again.
SKUs and Unit of Measures
As you already know, a SKU or Stock Keeping Unit is what merchants use to manage inventory. We recommend having a single master SKU for each item in its base unit of measure. Unit of measure is what defines quantity. For example, you might sell 6 eaches (individual units) or one 6-pack. However, when this inventory ships you must track it from the base unit of measure which is the each.
To help you better understand the Unit of Measure concept, let's take a look at O'Keefe's 'Working Hands' Cream - the #1 best-seller on Amazon in hand creams & lotions (at the time of this writing). These are active listings on Amazon for the exact same product - they are just selling in different units of measure.
Unit of
Measure
Conversion
Image
Base Unit of
Measure
Each
1
1 each
2-pack
2
2 eaches
4-pack
4
4 eaches
6-pack
6
6 eaches
The Challenge of Managing Multiple Units of Measure
Too often merchants create duplicate SKUs just so they can manage different units of measure and/or multiple listings and their unique listing content. Having duplicate SKUs in their system make inventory management, purchasing control, and competitive repricing almost impossible because every SKU for every listing across every channel must first be manually combined! This prevents merchants from having true visibility to the velocity of the item (how many are selling in a given time period).
This problem can be avoided by having a single master SKU for each item in its base unit of measure. By managing everything at the base unit of measure level, you can control cost and inventory information at the master SKU level while controlling listing content: quantity, price, image, weight, and description at the channel level. In other words, it's a one-to-many relationship between a SKU and the listings instead of a one-to-one relationship.
For example, in the table above we're selling O'Keefe's 'Working Hands' Cream. There are 4 sales channel listings:
An 'each' listing on Amazon
A 2-pack listing on Amazon
A 4-pack listing on eBay
A 6-pack listing on your website
Same item. Different quantities / units of measure. If you want to sell different quantities of this item on listings across different channels you need an online inventory management system that can perform the unit of measure conversion that must occur when you publish inventory and pricing, and when you fulfill orders.
So let's say you have a total of 60 units in stock. Here's how this should look when you publish your quantities.


| | | |
| --- | --- | --- |
| Listings | Unit of Measure | Published Quantity |
| Amazon ASIN 1 | Each | 60 |
| Amazon ASIN 2 | 2-pack | 30 |
| eBay | 4-pack | 15 |
| Website | 6-pack | 10 |

All of this publishing activity must be driven from your base unit of measure which is 60 units. Whenever an item gets sold, your online inventory management system must be able to perform this conversion on its own and automatically deduct the appropriate quantities from your available inventory.
---
Bottom Line: Point your listings back to a single master SKU so you know exactly how many units are selling per day and what listings they are actually selling on. This strategy will save you countless numbers of hours because you won't have to log-in to all of your channels every day and manually combine duplicate SKUs just to maintain accurate inventory levels. Instead, your system will do that for you, and as a result, you'll be able to spend more time on growth-related tasks like adding new products, sales channels, and suppliers.